Australia, and indeed the world, has entered a period of great uncertainty with Covid-19 fundamentally altering our way of life virtually overnight. Yet while we need to embrace these necessary changes, there are many things we never want to change. There is comfort in knowing that a task will be completed in a thoroughly professional way; of being able to count on the extra care, service and effort from those you have engaged to work for you. In the end, it's all a matter of trust. Nowhere is trust more important to you than when you are involved in the management of real estate.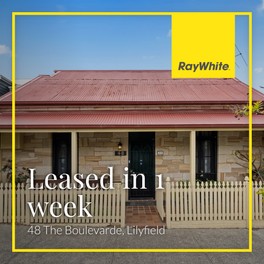 We also understand that you need more than trust. There has to be experience, knowledge, enthusiasm, dedication and the often rare commodities of honesty and discretion. For those of us at Ray White Rozelle, establishing and maintaining these credentials is fundamental in our day to day business life. We are proud that so many clients have come back to us again and again over the years. Exceptional property management equals confidence, and better returns for property investors.
Whether you have a vacant property, or one that is currently occupied but have been considering switching agents, assigning your property to Ray White Rozelle is a simple process, and comes at no cost to you.
Making the switch is easy – you won't even have to talk to the current Property Manager if you don't want to. Once you have appointed Ray White Rozelle as your Property Manager we take care of everything. There will be no disruption to your tenants, and importantly, no disruption to you. You will instantly enjoy the benefit of our experienced team of David Meadowcroft and Danny Mihajlovic, with a combined Real Estate experience in excess of 50 years, looking after your property.
To discuss switching your investment property to Ray White Rozelle, call David Meadowcroft on 0412 247 818, or complete the form below.